Badger Meter Enhances Pump Operation at Large Poultry Processing Facility
Dynasonics® ultrasonic transit time flow meters improve the performance and reliability of wash-down pumps
All food processing facilities have demanding cleaning requirements. Plant personnel need effective wash-down capabilities for applications such as cleaning and sanitation, odor control and dust suppression.
Most modern processing plants utilize a central, high-pressure cleaning system that allows multiple operators to clean faster than with a low-pressure system. For wash-down applications, this approach improves efficiency by enabling operators to get the job done with less water and fewer chemicals, which saves money.
High-pressure pumps are a crucial component of plant wash-down systems. The pumps must be consistently operated within manufacturer specifications to ensure utmost performance and reliability and reduce their long-term lifecycle costs.
Plant Operating Demands
Food processing plants are finding ways to conserve water and energy by making adjustments to their current systems or implementing new technology. Some plants have added pumps or switched to larger capacity pumps in their wash-down systems, and this equipment runs at full flow and pressure when in operation.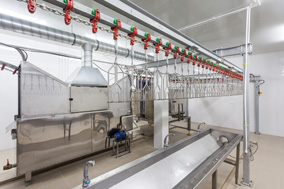 A large poultry processing facility in the Southeastern U.S. uses wash-down pumps within its plants. Shortly after the pumps were installed, one of the units was damaged internally by incorrect operation. The pump had too little flow for an extended period of time while the motor was running at full speed. Although the installation includes a small bypass line, operating the pump in a low-flow condition caused internal recirculation and subsequent heat build-up—resulting in complete failure.
The poultry processor incurred an $8,500 repair bill for the damaged high-pressure pump, which would have cost approximately $23,000 to replace.
Value of Flow Measurement
Food industry operations can't afford to take chances with wash-down pumps and other expensive circulating equipment. In this case, the poultry processor tried several methods to protect its pumps from low-flow conditions. One way was to install pressure sensors and use the readings from these devices as an input for pump controls. This method proved to be problematic, and thus, another solution had to be found.
Since the outlet pressure of the wash-down pump was fairly high with hot temperatures, an ultrasonic clamp-on flow meter was considered as an alternative to a traditional inline meter, which would have required a system shutdown and high costs for installation. By using ultrasonic clamp-on technology, the flow meter could be installed while the pump was in operation.
Transit time ultrasonic flow meters measure flow rate by propagating ultrasound waves into liquid-filled pipes and measuring the time of flight. With clamp-on technology, the meter is non-intrusive—a design that provides advantages including:
Reduced installation costs
Uninterrupted production
Installation flexibility across a wide range of pipe sizes
No pressure head loss
No contact with internal liquid
No moving parts to maintain
Allows for routine maintenance activities throughout the life of the meter without having to cut into piping
Choosing the Correct Meter
The poultry processor turned to Voigt-Abernathy Co., a leading distributor of industrial rotating and process equipment, to recommend the right solution for its wash-down pump application. As the Badger Meter process industry representative for Georgia, Alabama and Tennessee, Voigt-Abernathy has considerable experience with the deployment of flow measurement technology in the food industry.
Voigt-Abernathy chose to install Dynasonics® ultrasonic transit time flow meters from Badger Meter at the poultry processing plant. These advanced meters proved to be the answer to the low-flow problem with wash-down pumps, reducing the poultry processor's maintenance costs and improving asset reliability.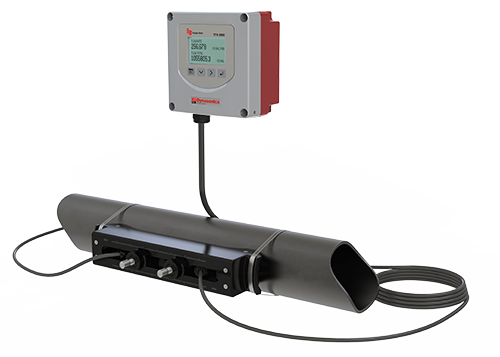 The Dynasonics TFX-5000 ultrasonic clamp-on flow meter is the latest solution for measuring volumetric flow rates containing clean liquids as well as liquids with small amounts of suspended solids, such as surface water or raw sewage. The meter is available in a variety of configurations in order to meet particular application requirements. It is easy to use and has helpful diagnostics to take the guesswork out of programming. Depending on programming and integration into the programmable logic controller (PLC), users can be alerted to out-of-specification flow conditions and access a history with the most recent alarms, error and event codes. In addition, the flow meter supports an encoder output for use with cellular endpoints for connecting to the AquaCUE® Flow Measurement Manager or BEACON® Advanced Metering Analytics (AMA) cloud-based software suite. This software collects measurements at 15-minute intervals that are uploaded to the cloud on a regular schedule (up to twice per day) to help with tracking and analyzing water and wastewater information.
The TFX-5000 flow meter features a large, easy-to-read graphical display and provides Modbus RTU, Modbus TCP/IP, BACnet MS/TP, and BACnet/IP connectivity options. Configuration and troubleshooting are done through an optional keypad or via a Universal Serial Bus (USB) cable using the SoloCUE® Flow Device Manager software. The meter uses a four-level passcode security system for applications requiring unit lockdown.
The poultry processing operation utilizes a pump control package consisting of a Dynasonics ultrasonic transit time flow meter that provides flow rate information to a Variable Frequency Drive (VFD). This control solution prevents wash-down pumps from running with too little flow for an extended period of time as well as staging a second pump during high-demand situations. It controls pump operation to closely match system demand—resulting in significant savings in energy costs.
Within the pump control package, a duplex VFD panel and a single ultrasonic flow meter work in tandem to control the pump speed and run time. In automatic mode, the master pump will run at the selected speed to meet desired pressure until the flow meter has signaled a low-flow condition for a length of time, which will slow the pump to a minimum speed or stop the system entirely. If the flow meter signals a high-flow condition for a length of time, a second pump will be started to meet demand. If the flow decreases for a length of time, the second pump will turn off and the master pump will continue to operate.
Benefits to System Performance
Due to the successful results from this application, Voigt-Abernathy has provided the customer with multiple control packages combining Dynasonics transit time ultrasonic flow meters and VFDs. The original wash-down pump fitted with this package has been in operation for an extended period of time with no premature failures.
Ultrasonic transit time flow meters enable improved diagnostics to accurately measure flow, help identify potential pump operating issues and initiate appropriate preventative maintenance programs, thus extending the life of assets.
Experience has shown that employing a flow control solution with a VFD to control wash-down flow rate helps to save energy and extend equipment life. Using controls to regulate the volume and pressure in the washdown system allows plants to save water while cleaning is being done as well as accurately maintain the pressures required at each operator hose. Taking these steps can result in higher efficiency, creating a positive impact on the bottom line.
Conclusion
For food processing operations, the use of an innovative control package design for high-pressure wash-down systems enables plant personnel to spend more time meeting production demands and less time worrying about equipment.
The flow measurement solution installed in a busy poultry processing facility—which combines ultrasonic transit time flow meters and variable speed drive technology—has provided a quick return on investment. The solution allows the wash-down system to achieve minimum flow rates or completely shut off when demand is low without the potential for severe equipment damage.
Learn more about the Dynasonics® TFX-5000 meter
Connect with an Expert