Smart Water Is: The Widest Range of Metering Solutions
Smart water metering solutions are not one size fits all. Every utility has their own unique needs and challenges that must be carefully considered when deploying a smart water solution. To meet the needs of all utilities, Badger Meter offers the widest range of metering solutions to help every utility find their tailored answer—whether that means mechanical or electronic meters, mobile automated meter reading (AMR) or advanced metering infrastructure (AMI) networks supporting a partial or full deployment. We believe choice matters, so we provide utilities with a wide range of metering options to help them find the ideal one.
Choice Matters When Selecting Your Meter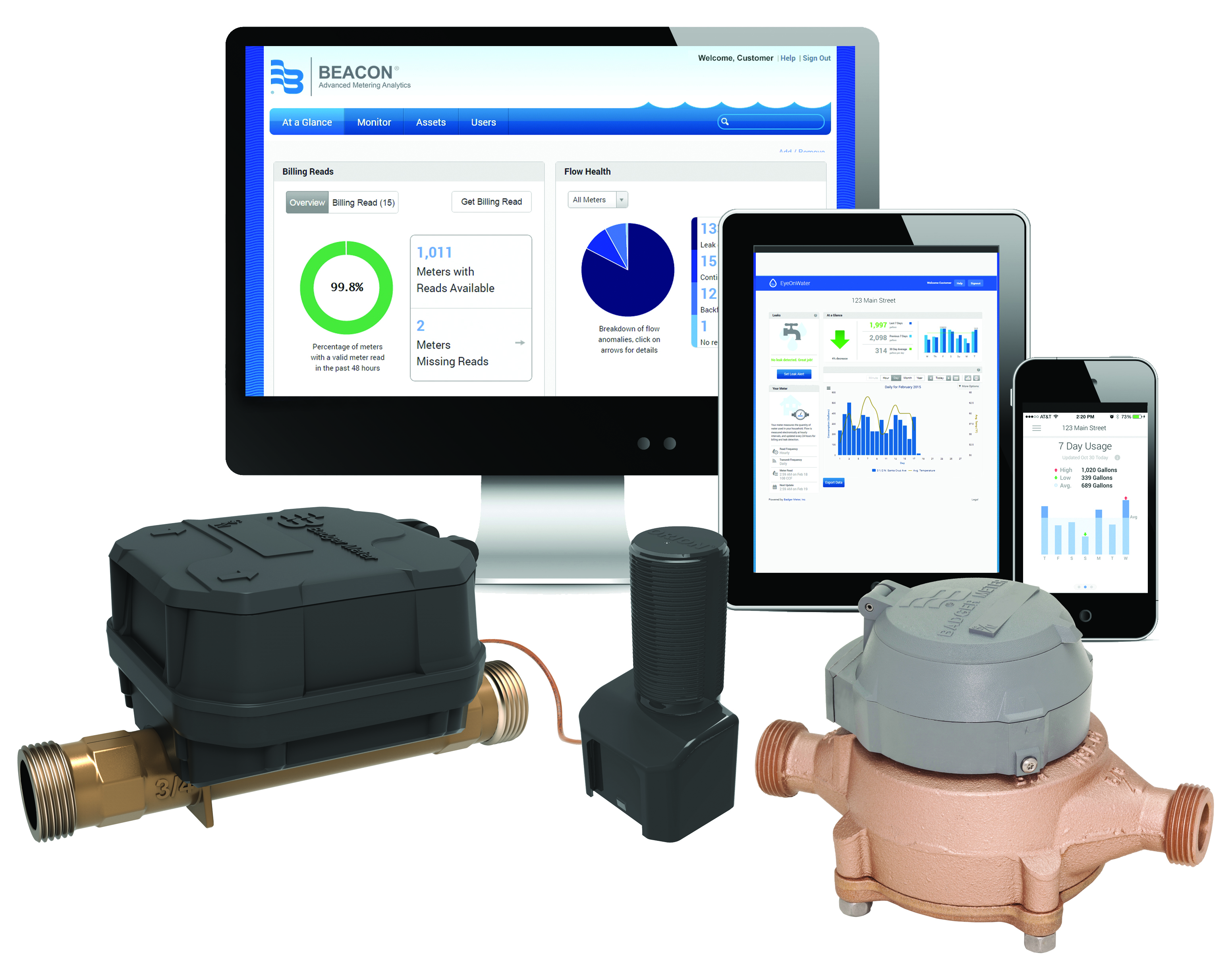 Every successful smart meter system requires reliable water meters to function. Without accurate and reliable water metering products, the smartest water systems cannot deliver the precise data utilities need for accurate billing and efficient customer service. At Badger Meter, our water meter product selection offers utilities an array of options, including style, material and size ensuring every meter fits their needs.
For the last 115 years, our experts have designed and built reliable, long-lasting meters that utilities have come to trust. We also offer smart water solutions that can be implemented without replacing meters. If your existing water meters are in good working condition, they may seamlessly integrate with a new system depending on which reading technology you select.
Customizable Smart Water Solutions to Fit Your Needs
In searching for the right smart water metering solution, utilities first need to determine their top challenges and the results they want to achieve. Without defining this information first, they are more likely to invest in a solution that doesn't fit their needs and risk being left with buyer's remorse.
Whether utilities are looking to improve meter reading efficiency and accuracy, enhance customer service processes, increase their citywide resiliency and sustainability or all of the above, our solution experts have recommendations that can be customized to help improve these operational efficiencies. We offer a choice of solutions to meet your system management, water meter reading, reporting and outreach needs, including mobile or traditional and cellular fixed network solutions.
Mobile Solution
This flexible solution supports drive-by or walk-by automated meter reading (AMR) and incorporates ORION® Migratable endpoints. Mobile solutions are ideal for utilities that currently read meters manually or are limited to bi-monthly or quarterly reads due to personnel limitations.
With mobile solutions, ORION endpoints transmit meter reading data via radio frequency to a mobile receiver or transceiver. When the reading device is within range of the endpoint's signal during walk-by or drive-by readings, reads are automatically collected. ORION Migratable endpoints will also detect ORION network gateway transceivers in the area, which signal the endpoint to transition from mobile to fixed network without rolling a truck or reprogramming the endpoint.
Cellular Fixed Network Solutions
Utilities can take advantage of existing cellular networks and choose a cellular-based AMI solution. This network as a service (NaaS) solution utilizes existing reliable cellular networks so utilities don't have to purchase, monitor, manage or maintain their infrastructure. Cellular AMI solutions also provide long-term budget predictability because utilities pay a set monthly fee for a network that is fully managed for them.
Managed Solutions
Our managed solutions—which can include mobile and cellular network solutions—are specifically configured for utilities by our solution experts. These solutions provide built-in infrastructure management services, so utilities can focus on other priorities, such as enhancing customer service or eliminating non-revenue water caused by system leaks. Our managed solutions are also designed to keep utilities in step with technology, ensuring it keeps up with industry developments and provides reliable service well into the future.
Optimizing Processes Across Your Water System
Our smart water solutions work in harmony with our cloud-based analytical software suite, BEACON® Advanced Metering Analytics (AMA). Together, they provide utilities with information they can use to optimize their processes, including:
Increased visibility through analytics—Our secure, hosted platform allows utilities to set unique alert conditions to define and proactively monitor exceptions. Additionally, utilities can customize their BEACON AMA dashboards to have system-wide information delivered right to their desktop or other device.
Enhanced customer service—Customer service is of the utmost importance for every utility and our BEACON AMA system makes it easy. Utilities of all sizes have access to consumption graphs to monitor how water is being used with hourly, daily, monthly or yearly data. Utilities can also provide their customers with access to their own usage activity through the EyeOnWater® consumer engagement tool. This web portal or smartphone/tablet app tool provides greater understanding of consumption data and encourages customers to take control of their water use by watching for patterns.
Focused water management—A BEACON managed solution provides the hosted software platform, system maintenance, software support and management information that allows utilities to focus their time and resources on managing their water delivery system.
Customize Your Water System From Meter to Network
We believe every utility should have access to water metering solutions that fit their needs, regardless of population, location or existing infrastructure. Our wide range of metering solutions make it simple for utilities to address their challenges and deploy a smart water system that increases meter reading efficiency and accuracy, decreases non-revenue water, improves customer service and human resource processes and provides analytics that help utilities improve their overall system management. If you're ready to discuss your options,
reach out
to our solution experts to start a conversation today.