Why Utilities Choose Cellular AMI Fixed Networks Over Traditional Fixed Networks
In the municipal water world, water utilities often find themselves choosing between traditional fixed and cellular advanced metering infrastructure (AMI) networks. Both act as a data highway, transmitting meter reading data from endpoints to a utility's data collection system. However, utilities frequently select cellular AMI networks to best fit their process, water supply and budgetary needs, so they can fully realize its benefits. Keep reading for a comparison of both network options to better understand why thousands of utilities are switching to cellular AMI solutions.
Traditional Fixed Networks
Traditional fixed networks incorporate proprietary gateways that are deployed throughout a utility's service territory to collect meter reading data. During installation, there are many factors that must be addressed, including negotiating and leasing data collector infrastructure, obtaining necessary permits, erecting radio towers in specific locations to maintain optimal performance and processing contractor work to install the data collectors. The entire process typically takes 1-2 years since infrastructure needs to be deployed before endpoints can be installed.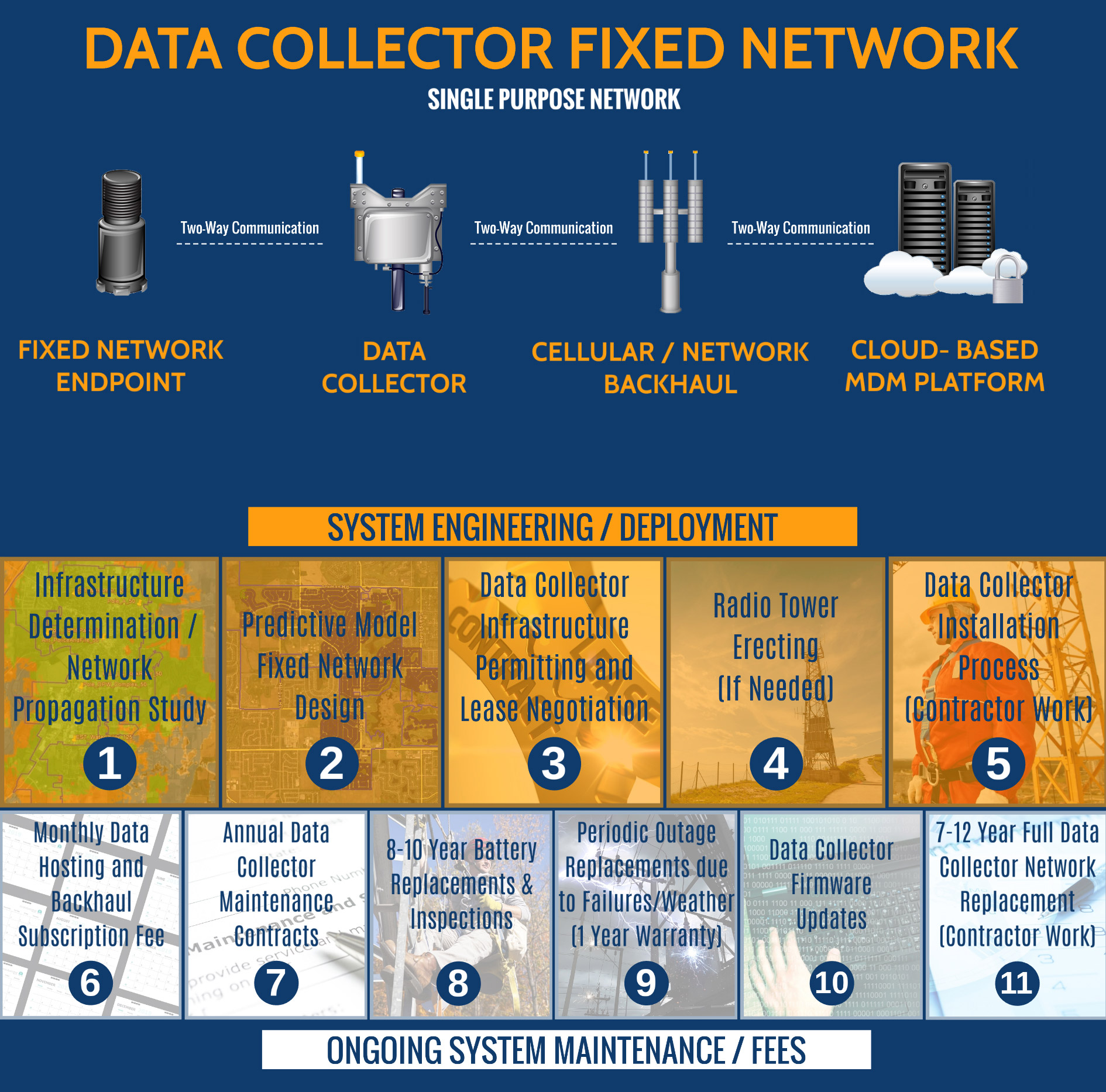 Once installation is complete, utilities can expect to pay for ongoing maintenance, including monthly data hosting and backhaul subscription fees, as well as annual data collector maintenance contracts. Traditional fixed networks are like the computers and smartphones that we use every day in that they operate virtually around the clock. To get maximum use out of them, utilities need to inspect and/or replace gateway batteries, cables, antennas and enclosures annually and replace the data collector network hardware. If utilities take shortcuts on the network's infrastructure maintenance, they create unnecessary risk for their system that will likely cost them more in the long run.
Cellular Networks
Cellular network solutions—also referred to as network as a service (NaaS)—have become a leading solution among utilities because they leverage existing cellular networks to transmit data. For installation, all utilities need to do is pair smart water meters with cellular-enabled endpoints—like our ORION® Cellular endpoints.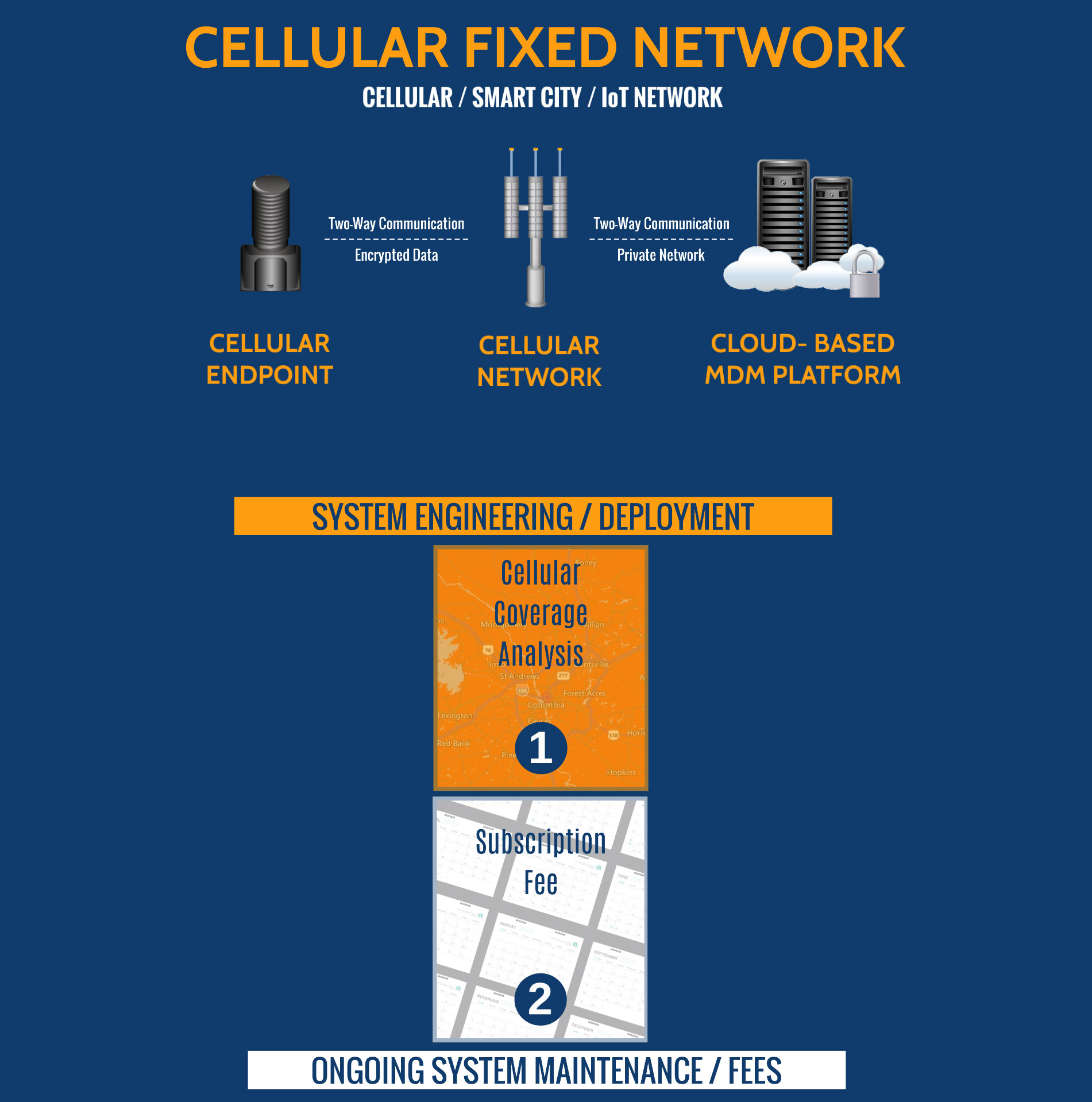 Cellular NaaS solutions are the only options that are up and running at a flat cost with no additional fees or add-ons required. No added fees or maintenance costs means utilities can predict what their overall operation costs will be without worrying about surprises. Utilities often select cellular AMI solutions because the system can be up and running immediately once cellular endpoints are installed. There's no need to wait for a network to be deployed or installed prior to installing the cellular-enabled endpoints since it's existing. This streamlined deployment results in cost savings and a quicker payback because utilities can start realizing the solution's benefits right away.
Another differentiator between traditional fixed and cellular networks is resilience, including uptime if a storm or natural disaster causes an outage. With a traditional fixed network, utilities either need to maintain or repair the outage themselves or wait for a third-party company to do so. Finding and contracting network support personnel to get the networks up and running can take weeks, or even months, to get on-site and address the damage.
In contrast, with cellular solutions, the utility doesn't have to worry about maintaining the network. Cellular networks are one of the first services restored, if they go down at all, after a big storm or natural disaster to aid first response teams. In fact, cellular companies have many different strategies to address network outages including deployment of temporary infrastructure while permanent structures are repaired or replaced to ensure there is minimal lapse in connectivity.
Transitioning Your Utility to a Cellular AMI Network
We often hear that utilities need to stick with the network type they're currently utilizing when upgrading, but that's not true. We highly recommend cellular networks to most every utility for its flexibility and resiliency. Cellular networks equip utilities with the data they need to:
Improve meter reading: With cellular AMI, utilities can better monitor their water systems to increase meter reading efficiency, assure long-term meter accuracy and decrease non-revenue water.
Enhance customer service and utility processes: Utilities choose cellular AMI to improve their customer service processes, better utilize their human resources and evaluate analytics to enhance overall utility management.
Support citywide resiliency and sustainability: Cellular AMI solutions support citywide smart initiatives, improve utility resiliency and emergency preparedness, aid utility sustainability efforts and help address drought concerns.
Learn more about our cellular AMI solutions and then reach out to our solution experts if you have questions about switching your utility to a cellular network.
Learn More About our cellular AMI solutions
Connect with Our Sales Team