Why Water Utilities Choose a NaaS Solution for Their AMI Fixed Network
As utilities migrate their legacy meter reading systems to advanced metering infrastructure (AMI), many are opting for Network as a Service (NaaS) solutions instead of a utility-owned fixed network for added support. NaaS solutions transform the way water utilities upgrade their systems for several reasons, including that utilities don't need to manage network infrastructure. Keep reading to learn why utilities nationwide are choosing a NaaS solution for their AMI fixed network deployment.
Making the Switch to an AMI Solution
Roughly 20% of utilities currently have fixed network meter reading systems deployed. That means 80% of utilities must determine the best course of action in upgrading their current meter reading systems. The biggest question utilities need to answer when deciding on an AMI fixed network solution is who will manage the network infrastructure. If a utility has a dedicated and qualified team member to monitor, manage and maintain the infrastructure, then a utility-owned fixed network AMI system can be a viable option.
However, utility-owned fixed networks burden utilities with the responsibility of planning and leasing the network, routine maintenance, annual inspections, unpredictable repairs and connectivity restoration if the network goes down. The cost of initial deployment and maintenance alone can add up quickly for utilities, making it difficult to budget for the upgraded system.
Benefits of a NaaS Deployment
With a NaaS AMI fixed network solution, utilities are only responsible for owning and installing metering endpoints. A third-party manufacturer owns, installs, monitors, manages and maintains the entirety of the network on the utility's behalf. This empowers utilities to focus on key priorities, including water quality, customer service and accurate billing, instead of being preoccupied with managing the network infrastructure.

Here's a comprehensive overview of everything that is covered with a NaaS agreement: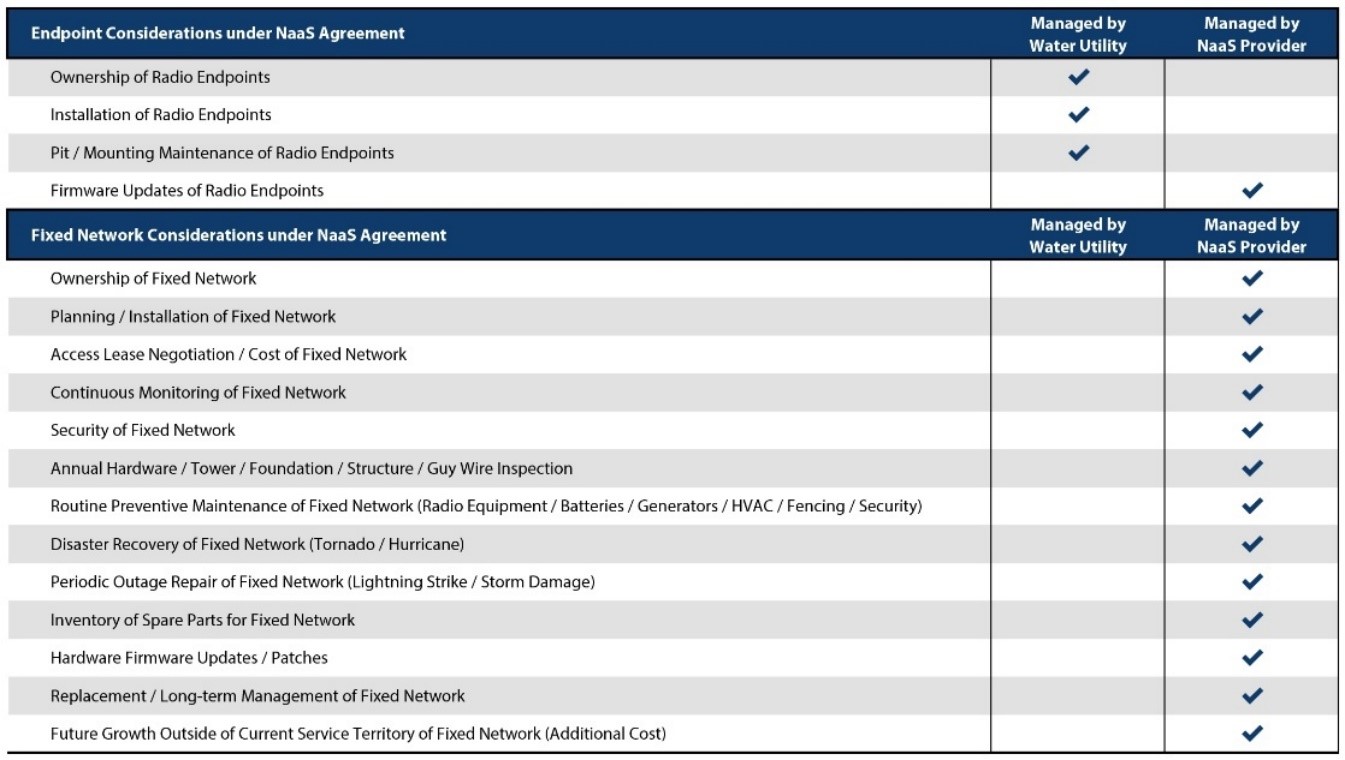 Additional benefits of a NaaS solution include:
Funding: Upfront capital costs are not required for NaaS solutions because the network is owned and managed by a third party.
Budgeting: With NaaS, utilities pay a monthly cost to cover the operational expenses associated with a third-party network. This allows them to accurately and confidently budget over the full life of the system.
Security: Data security is critical to utility operations. NaaS solutions provide up-to-date security and network monitoring 24/7 to assure data is never compromised.
Reliability: Compared to utility-owned fixed networks, NaaS solutions are inherently more reliable because they are maintained regularly, and utilities are always guaranteed the latest hardware, security protection and software.
As another option, utilities can take advantage of a cellular NaaS solution, which leverages the existing cellular network. Many utilities opt for this solution for the unmatched reliability and uptime of 99.9%. With the cellular network, NaaS solutions are up and running once cellular-enabled endpoints are installed so utilities can benefit from improved meter reading processes, customer service operations and citywide resilience and emergency preparedness.
Discover Your Options for a NaaS Smart Water System Deployment
At Badger Meter, we encourage utilities to consider NaaS when planning a meter reading system upgrade. NaaS solutions are ideal for utilities that don't have the manpower to maintain infrastructure, want to update legacy meter reading systems or are interested in smart water systems with the latest technology but want to avoid large upfront costs. Learn more about cellular NaaS and discuss your options with our experts to find out if a NaaS solution is the right choice for your utility.