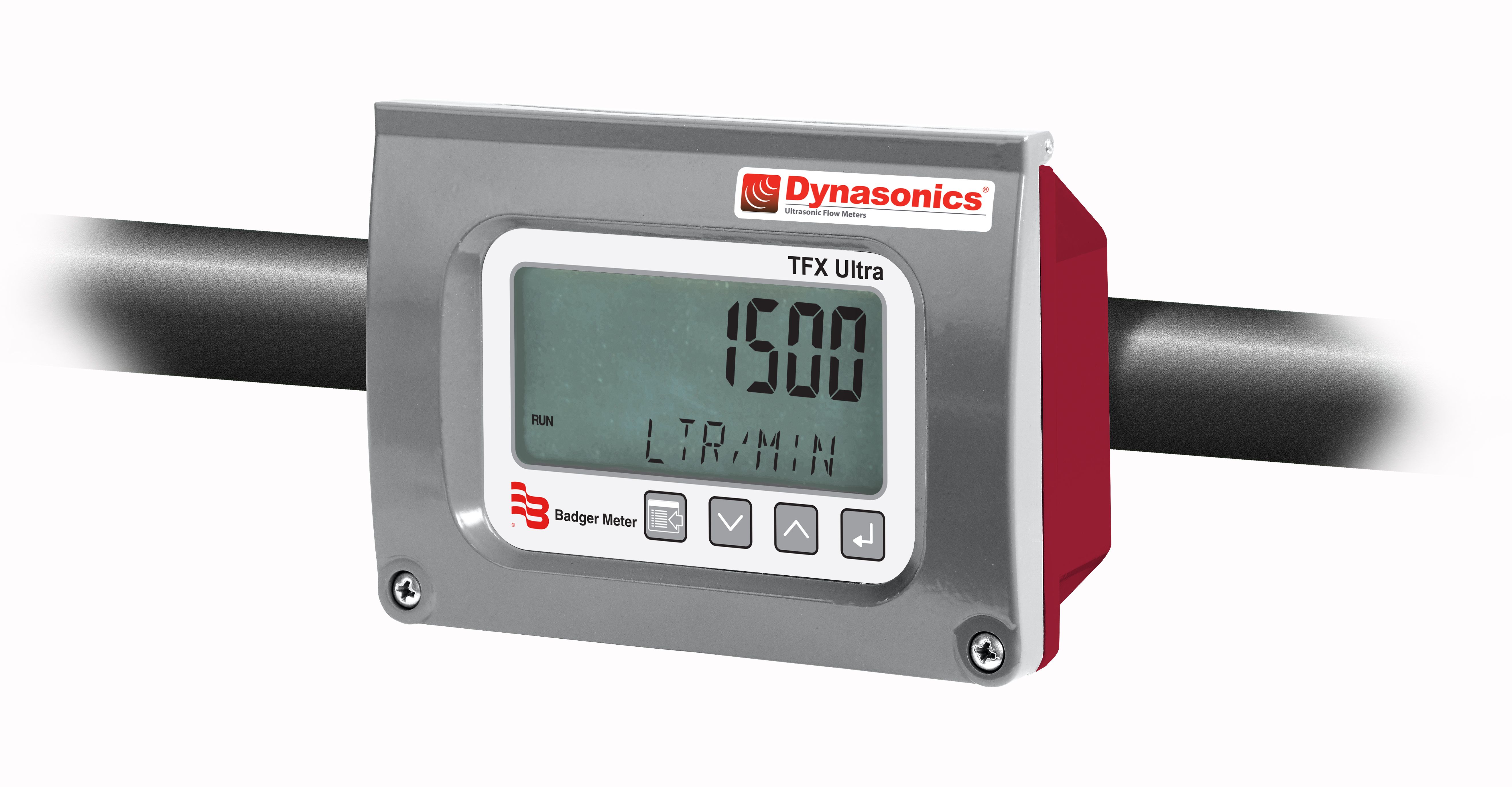 TFX Ultra Transit Time Flow Meters
TFX Ultra transit time ultrasonic meters measure volumetric and energy flow of clean liquids, as well as those with small amounts of suspended solids or aeration, such as surface water or sewage. Ultrasonic waves are transmitted from outside the pipe into the liquid and propagate upstream and downstream. The flow velocity is determined by the difference in the time of flight and is used to calculate the volumetric flow.
For energy metering, the temperature difference across heating and cooling equipment or zones is measured by dual RTD's and is used with the volumetric flow to calculate the energy transfer.
Benefits
Reduced material cost by eliminating the need for in-line flanges, pipe fittings, strainers and filters
Reduced installation time
Reduced maintenance cost
Non-invasive measurement
No need to shut down the process for installation or maintenance due to clamp-on-sensor design
Features
Flow or energy metering
Bi-directional flow measurement system
No moving parts to wear or replace
Totalizer options include forward, reverse and net total
Modbus RTU or BACnet MSTP over EIA-485; Ethernet connections including BACnet/IP, EtherNet/IP, and Modbus TCP/IP protocols
Large, easy-to-read digital display
Rugged, aluminum enclosure provides a long service life in harsh environments
Certified for hazardous area installation in North America and Europe
UltraLink software utility enables in-field flow meter configuration, calibration and troubleshooting, via laptop PC
Specifications
Pressure Range
Per pipe specification
PSI
CAD and BIM
Additional Specifications
Application Examples
Water Treatment
Sewage
HVAC/Energy Monitoring
Power Generation
Food and Beverage Processing
Water Delivery
Industries
Building Automation / HVAC
Facility or Property Management
Irrigation
Petrochemical, Refining & Chemical Metering
Process or Industrial
Test Equipment & Services
Water & Wastewater Treatment
Product Resources
| | | | |
| --- | --- | --- | --- |
| | | {{item.DocumentTypeName}} | {{item.Date}} |
Parts, Accessories & Other Options