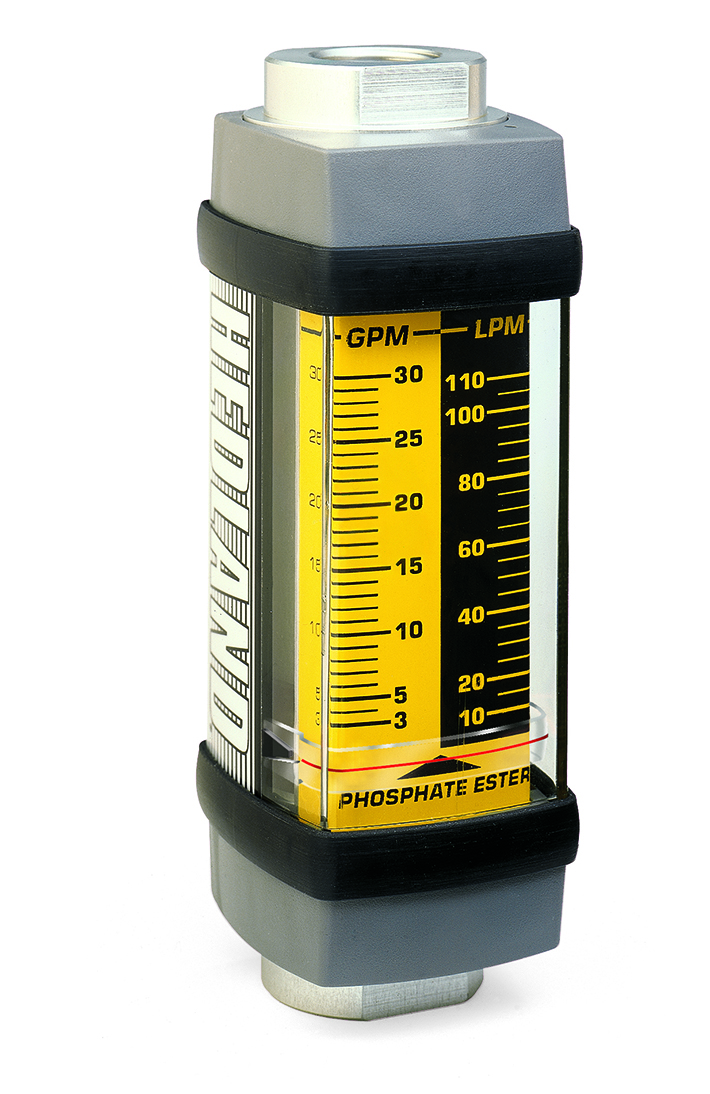 Phosphate Ester Fluid Meters
Hedland phosphate ester fluid meters provide a measurement solution for fire-resistant fluids, aviation hydraulic fluid and industrial lubricants. These fluids have high ignition temperatures and low vapor pressures. Use in hydraulic applications is considered when fire-risk is concerning. Examples of phosphate esters include Fyrquel®, Skydrol® and Pydraul®. The standard meters provide an economical solution for operators needing a quick, visual indication of flow, without the use of additional electronics. A variety of end fittings and different material types create product flexibility and material compatibility. Expansion options are available to allow integration into remote systems via electronic output.
Overview
The Hedland Flow Meter is a variable area (rotameter) instrument. A precision machined, sharp-edged Orifice is located within the piston assembly and forms an annular opening with the contoured metering cone. The piston assembly carries a cylindrical PPS/ ceramic magnet that is magnetically coupled to an external flow Indicator that moves precisely, in direct response to movement of the piston. A calibrated spring opposes flow in the forward direction. This spring decreases viscosity sensitivity and allows the flow meter to be used in any position, including inverted.
Benefits
No electronics needed to obtain a reading
Can be installed in any position / orientation without affecting accuracy
The most readable product in its class
Does not require special plumbing or accessories to stabilize turbulent flow
Magnetic coupling eliminates the need for mechanical linkages that wear, loosen and leak over the functional life of competitive meters
Custom scale options to meet exact application requirements
Features
Direct reading
Internal calibrated spring
360° rotatable guard/scale
Easier-to-read linear scale
No flow straighteners or special piping required
Relatively insensitive to shock and vibration
Special scales available
Specifications
Accuracy
±2
%
(1/4 inch only) ±7
%
Additional Specifications
Application Examples
Steel Mills
Hydraulic Systems
Turbines
Compressors
Skydrol® Fluids
Fryquel® Fluids
Industries
Aviation & Aerospace
Oil & Gas
Petrochemical, Refining & Chemical Metering
Process or Industrial
Test Equipment & Services
Water & Wastewater Treatment
Product Resources
| | | | |
| --- | --- | --- | --- |
| | | {{item.DocumentTypeName}} | {{item.Date}} |
Parts, Accessories & Other Options