Introducing the Dynasonics® TFX-5000 Ultrasonic Clamp-on Flow Meter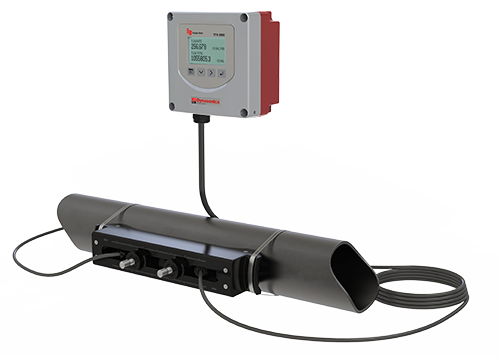 The Dynasonics TFX-5000 ultrasonic clamp-on flow meter is the latest in transit time meters from Badger Meter and offers these great benefits:
Advanced Technology for Demanding Operations
The Dynasonics TFX-5000 ultrasonic clamp-on flow meter is our next generation in transit time meters. The
TFX-5000 meter is intended for use in today's complex environment, where advanced technology is needed to deal with critical operational demands, rising cost constraints and the wave of retiring workers.
When Price and Performance Matter
The TFX-5000 meter provides an optimal value for those looking for a superior solution at a competitive price. Unlike most ultrasonic flow meters, it employs built-in data logging services and a real-time clock to time/data-stamp alarms, log flow rate and total and track flow velocities. The meter has an 8 GB micro Secure Digital (SD) card to store a large volume of backup data for troubleshooting or reporting purposes.
Easy Installation and Lower Cost
If an existing flow meter fails and is difficult to replace, the alternative is a non-invasive solution like the TFX-5000 meter. The TFX-5000 meter clamps onto the outside of pipes and does not contact the internal liquid.
Learn More About the Dynasonics TFX-5000 Ultrasonic Clamp-on Flow Meter