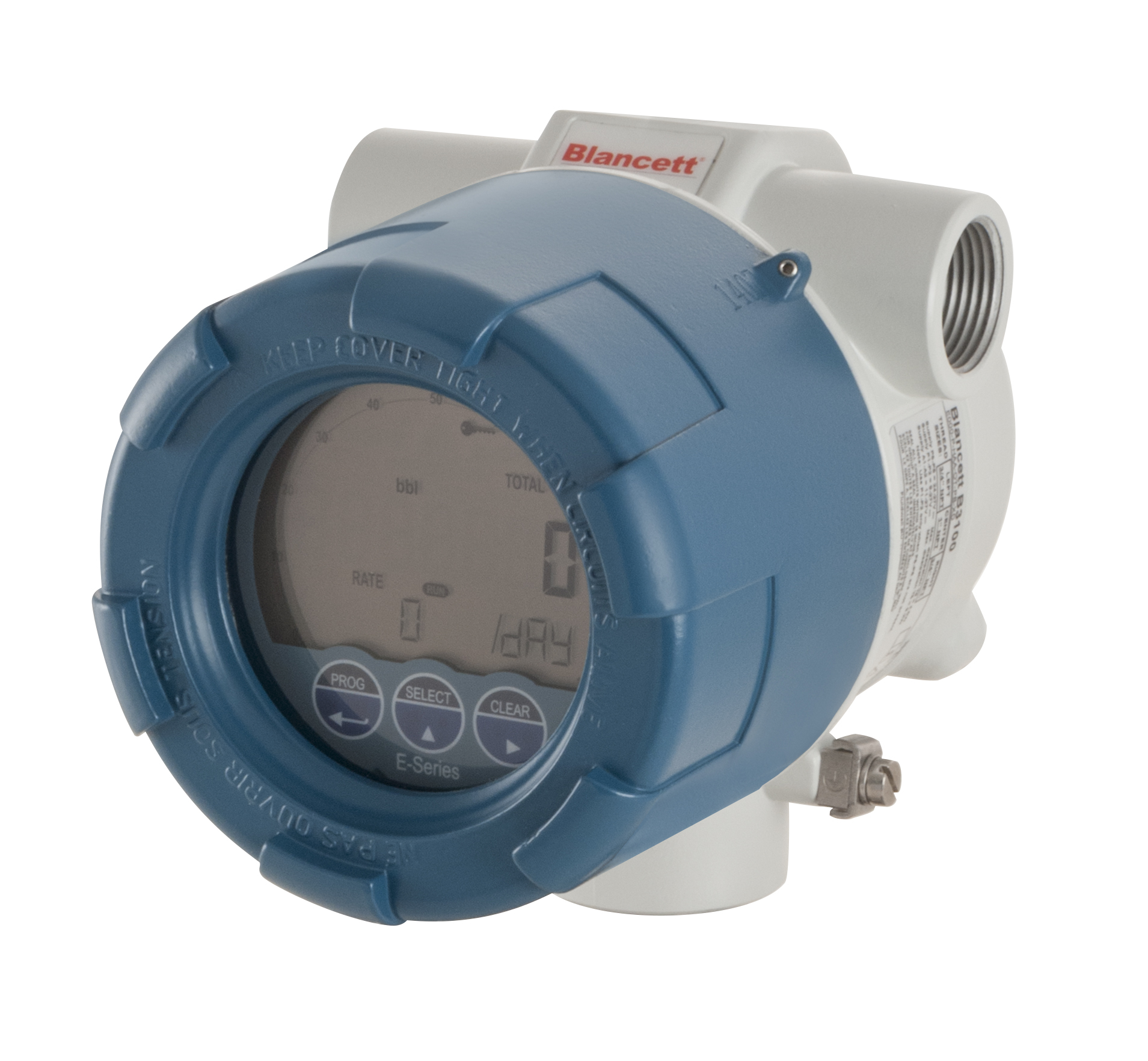 B3100 Series
The Blancett B3100 Series flow monitor is a flexible, durable, easy-to-use platform for flow metering applications. The B3100 flow monitor incorporates advanced options with full operation through the glass. The B3100 offers data logging and remote data access and programming, all without opening the enclosure. The B3100 utilizes a programming software to make remote configuration easy and efficient.
Features
• Explosion-proof according ATEX, IECEx, FM and CSA c-us
• Rugged 1 in. NPT thread for flow meter mounting
• Data logging to survey information
• USB communication for configuration using a programming cable
• Modbus RS485 communication option.
• Easy configuration via PC with free downloadable software
• Easy K-factor and engineering unit configuration for volumetric or mass readings
• Display shows flow rate, total, measuring units and a flow rate indicating speedometer
• Seven-digit flow rate/total and 11-digit accumulated total
• Easy configuration with clear alphanumerical display
• Bright LED backlight • Auto backup of settings and running totals
• Power requirements: Loop powered or battery
• Operational temperature – 40…158° F (– 40…70° C)
• Sixteen-point linearization of the flow curve, with interpolation
• Field operation via through-the-glass keypad
Additional Specifications
Application Examples
Blancett Meters Help Hydraulic Fracturing Companies
Secondary oil recovery applications
Remediation and reclamation
Fracture/refracture
Coal bed methane
Regulatory compliance and environmental accountability
Industrial chemicals
Aggressive chemical processing applications
Semiconductor manufacturing
Fertilizer production and dispensing
Pesticide manufacture
Liquid batching and water cooling
Industries
Chemical, Refining & Petrochemical
Oil & Gas
Process or Industrial
Water & Wastewater Treatment
Product Resources
| | | |
| --- | --- | --- |
| | | {{item.DocumentTypeName}} |