Designed to Meet Your Needs: Dynasonics® TFX-5000 Ultrasonic Clamp-on Flow Meter
Commercial and industrial facilities have a crucial need: optimizing the operation of chillers, chilled water systems, thermal energy tank systems, boilers, cooling towers, pumps and other assets used in hydronic systems.

Hydronic system applications are rigorous and have a variety of flow measurement requirements. Adding to the challenge, they demand longterm accuracy, reliability and repeatability, along with a low cost of ownership.
As a precision transit time ultrasonic device, the TFX-5000 meter is the right choice for measuring the flow of clean liquids and those with small amounts of suspended solids. It can be used with dual clamp-on Resistance Temperature Detectors (RTDs) for British Thermal Unit (Btu) energy measurement.
Glycol and Hot or Chilled Water
Versatile: Hydronic systems often have high turndown characteristics. Users require solutions like the TFX-5000 meter to measure flow at both the design rate and minimum rate required for seasonal operation.
Cost-effective: The TFX-5000 meter handles a wide range of pipe sizes. The meter samples the entire flow profile twice, and its clamp-on configuration inherently reduces installation time and cost.
Robust: The TFX-5000 meter is built for the day-to-day demands of remote installations. It utilizes a sturdy aluminum enclosure for a long service life, even under the harshest conditions. The meter's innovative configuration completely eliminates the need to maintain and replace O-rings and seals.
Cooling Towers
Non-intrusive: With its non-intrusive configuration, the TFX-5000 meter provides utmost ease of deployment. It can be put into service without shutting down the process or intruding into existing piping.
Flexible: The TFX-5000 meter can be used to control the operation of pumped condenser water, condenser water blowdown and evaporation without the maintenance issues associated with traditional flow metering equipment. Its power and communications features can be quickly added or replaced when system requirements change.
Rugged: The TFX-5000 can be installed outdoors within the cooling tower system so the owner gets precise measurements for sequence and cycle control while using the flow data to help identify when limits of operation are reached.
Cost Allocation
Capable: With 8 GB of data logging storage, the TFX-5000 meter records up to eight readings for verifying and troubleshooting flow systems. If needed, it can integrate metering components with flow and temperature sensors to measure energy costs in heating and/or cooling applications.
Advanced: Users can pair the TFX-5000 meter with the AquaCUE® Flow Measurement Manager cloudbased software to provide flow data for consumption analysis, leak detection and other purposes.
Modern: The TFX-5000 meter was developed with modern, datacentric operations and can interface with building automation systems for real-time flow balancing. Connectivity options include Modbus® RTU, BACnet MS/TP and BACnet/IP.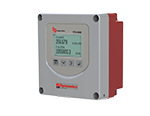 Features and Benefits of the TFX-5000 Clamp-On Flow Meter
Learn More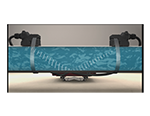 How Does Ultrasonic Clamp-on Technology Work?
Learn More