Designed to Meet Your Needs: Dynasonics® TFX-5000 Ultrasonic Clamp-on Flow Meter
Water and wastewater treatment facilities have a critical mission: producing a safe supply of drinking water and ensuring the quality and condition of discharge water. We know these operational processes are complex and involve a wide range of flow measurement tasks. Adding to the challenge, these applications demand flow meter accuracy and reliability, long-term stability and a low cost of ownership.
As a precision transit time ultrasonic device, the TFX-5000 meter is the right choice for measuring the volumetric flow of clean liquids as well as those with small amounts of suspended solids or aeration, such as surface water or raw sewage.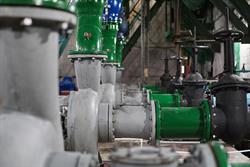 Lift Stations
Cost Effective: The TFX-5000 meter handles a wide range of pipe sizes. Its lightweight, clamp-on design also reduces installation costs by eliminating cranes or other lifting equipment.
Reliable: Monitoring the flow throughout the wastewater collection systems allows the operator to make adjustments before sewage enters the treatment plant. The TFX-5000 meter can operate reliably in raw sewage with up to 3% suspended solids.
Robust: With submersible transducers and Class I, Division 2 hazardous location options, the TFX-5000 meter withstands the rigors of this environment.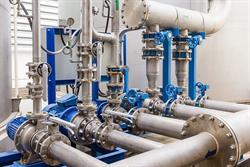 Booster Pump Stations
Non-intrusive: With its non-intrusive configuration, the TFX-5000 meter provides utmost ease of deployment. It can be put into service without shutting down the process or intruding into existing piping.
Data-driven: The TFX-5000 meter was developed with modern, datacentric operations in mind. Along with data logging, the meter offers a wide range of connectivity options, including Modbus® RTU, EtherNet/IP and Modbus TCP/IP.
Rugged: The TFX-5000 meter is built for the day-to-day demands of remote installations. It utilizes a sturdy aluminum enclosure for a long service life under the harshest conditions.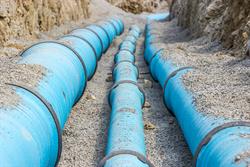 Water Mains
Versatile: Monitoring flows in large diameter pipes is notoriously expensive. Today, it is possible to measure flows in large water mains using clamp-on flow meter technology. The TFX-5000 meter has a wide, bi-directional flow measuring range and no pressure head loss.
Connected: Users can pair the TFX-5000 meter with the BEACON® Advanced Metering Analytics cloudbased software to provide flow data for consumption analysis, leak detection and other purposes. The meter also interfaces with SCADA systems for real-time flow balancing.
Non-contact: The TFX-5000 meter meets requirements for lead content in potable water plumbing products by never coming into contact with the water.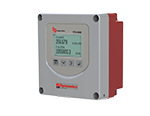 Features and Benefits of the TFX-5000 Clamp-On Flow Meter
Learn More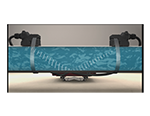 How Does Ultrasonic Clamp-on Technology Work?
Learn More