Technical Support
Many specific product questions are answered in the product literature available in the Resource Library of documents.
To Top
Where to find technical documentation within badgermeter.com.

In the tool bar, click on the Support & Resources link and scroll down to the Resource Library link.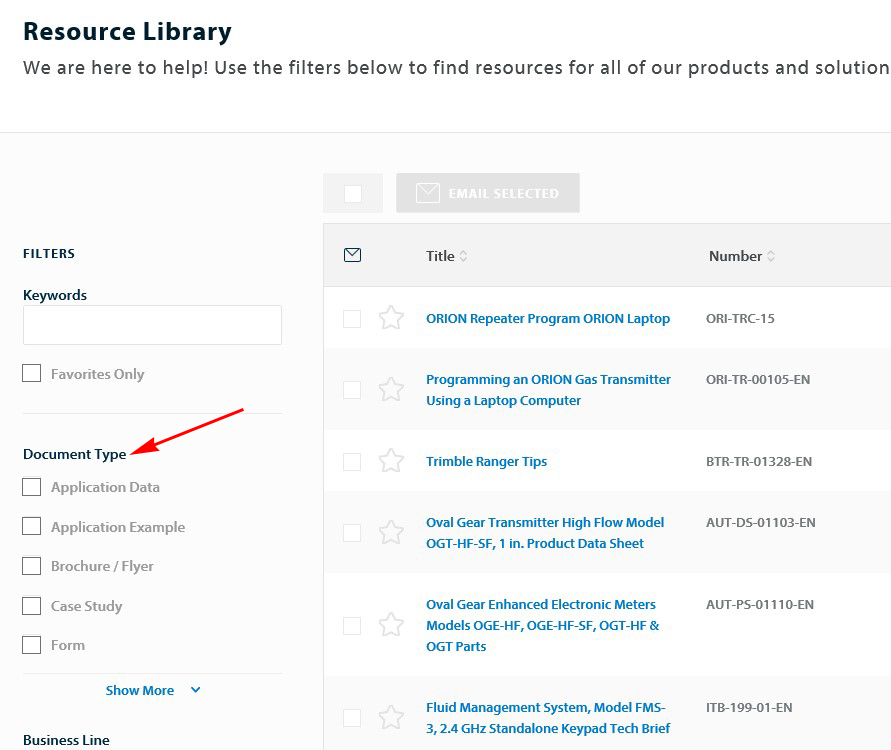 Once in the Resource Library, you can use filter options such as Document Type, Business Line or Language to narrow your search criteria and document results.
Types of documents available in the Resource Library:
Application Data
Application Example
Brochure / Flyer
Case Study
Form
Legal / Certifications
Manual
Other
Parts List
PowerPoint

Product Data Sheet / Tech Brief
Quick Reference Guide
Quick Start Guide
Safety Guide
Selection Guide / Catalog
Selling Brief
Specifications
Video/Webinar
Warranty
White Paper
Tools to Help You Size and Select Meters and Valves
We offer several software tools to help you and your customers select a meter or valve to meet specific needs and properly size the instrument for optimal performance.

PresoCalc
PresoCalc sizing software is a simple tool that sizes a wide variety of differential pressure (DP) flow meters. Badger Meter offers four types of DP meters: Gemini (a cone technology), COIN (a wedge technology), Ellipse (a Pitot tube technology) and a full line of Venturi designed meters. The new PresoCalc is a powerful tool that allows customers to size DP meters for a wide selection of media. Find it on any of the Preso product web pages.
RCVcalc
RCVcalc software guides specifiers through selecting the right control valve given the unique process requirements of a plant or application. With more than 2000 different media available and the ability to create customized media, plus automatic phase identification, RCVcalc provides accurate and meaningful valve sizing information to better reflect the system parameters of individual applications. Find it on any of the
RCV product
web pages.
RCT Selection Tool
RCT Selection Tool is designed specifically for the RCT1000 Coriolis line of flow meters. Especially for Coriolis meters, it's important to always size the sensor to the application—not the pipe size! The tool asks a series of questions to help determine the ideal meter size and type for a given application. Upon completion, the software will provide the ideal configuration and return a personalized report containing details, such as pressure and accuracy charts, flow range specifications, and more. Find it on any of the
RCT1000 Coriolis
product web pages.
Hedland® Selection & Pricing Tool
To more accurately assist you in finding the Hedland product that best suits your needs, we offer a Hedland Selection & Pricing Tool available to you. Click on the link to fill out a series of questions which will produce a price and the exact product part number needed to order the Hedland product that fits your specific application. Find it on any of the
Hedland
product web pages if you are signed into the website.
Frequently Asked Questions
High Resolution (HR-E) Registers
Q: Does the HR-E analog register have a pulse/digital output?
A: The HR-E analog register has an Industry Standard ASCII Format. See the
HR | E High Resolution Encoder Product Data Sheet
for more information.
Q: Can I get a digital output from the HR E-LCD with 4-20?
A: The HR E-LCD can provide a 3-wire synchronous for AMR/AMI solutions or a 2-wire passive connection as an analog signal. See the HR-E® LCD 4-20 Encoder Product Data Sheet for more information.
Q: The display on my HR E-LCD keeps changing. What are the different screens displaying?
A: The display on the HR E-LCD register rotates through these screens; 9-digit consumption displays for 45 seconds; 6-digit consumption (segmented leak detector in this mode) displays for 5 seconds; Rate of flow displays for 5 seconds; Meter model displays for 5 seconds See the HR-E® LCD Encoder Product Data Sheet for more information.
Q: I have an HR LCD with 4-20. Will it provide a digital output?
A: The HR LCD has a Solid-State Relay output that can switch up to 30V DC, 100 MA, with a 50 ms programmable from 30 to 100 ms. See the HR-LCD 4-20 Scaled-Unscaled Register Product Data Sheet for more information.
Q: My HR E-LCD register came programmed for a Recordall M25 disc meter. Can I change it to work on a different meter?
A: You can use the field programming kit to program the HR E-LCD register for use on any Recordall. See the HR-E® LCD, HR-E® LCD 4-20, HR-LCD 4-20 scaled/unscaled Programmer Manual for more information.
ModMAG M-Series Meters
Q: How can I clear an empty pipe alert from my M2000 ModMAG?
A: You can clear the Empty Pipe error by purging all air from the line or installing the meter so the pipe remains completely full. See the user manual for installation guidelines. See the
HR | E High Resolution Encoder Product Data Sheet
for more information.
Q: Can I connect an Orion endpoint to my M2000 ModMAG?
A: Yes, as long as the M2000 has firmware version 1.10 or higher. The meter has an output for the ORION Cellular, Orion ME/SE, and ORION Classic endpoints. Please contact Badger Meter Technical Support by calling 800-616-3837 or fill out the contact form below to email us.
Q: Can I rotate the amplifier assembly on my ModMAG M-Series M2000?
A: Yes, remove power to the meter and remove the four screws at the base of the amplifier. Rotate the amplifier 180 degrees and reinstall the screws, reconnect the power and verify operation.
Handheld Ranger 3
Q: Are batteries covered by maintenance agreements or extended warranty?
A: Batteries are considered consumable items and typically not covered by maintenance agreements or extended warranties.
Q: I am having trouble loading or unloading my Trimble 3 handheld when using a memory stick. What can I do?
A: Make sure the memory stick is properly formatted and is assigned to that device. Once verified, make sure the path is correct.
BEACON
Q: I cannot log in to BEACON. How can I reset my password?
A: Navigate to the BEACON login page and select Forgot Your Password link. You will receive a system-generated email with a link to reset your password.
Q: How do I find the Help section for BEACON?
A: Log in to BEACON and navigate to the At A Glance (AAG) page. While on the AAG page, place your mouse over the upper right corner of any one of the modules. When you see the question mark, click or select it to access BEACON Help.
ORION Cellular Endpoints
Q: How do I activate my ORION Cellular endpoint?
A: Connect the endpoint to an encoder then swipe a strong magnet over the word "cellular" written on the side of the endpoint.