Technical Support
Many specific product questions can be answered within the documentation available on the Badger Meter website within the Resource Library of documents.
Where to find technical documentation within badgermeter.com.

In the tool bar, click on the Support & Resources link and scroll down to the Resource Library link.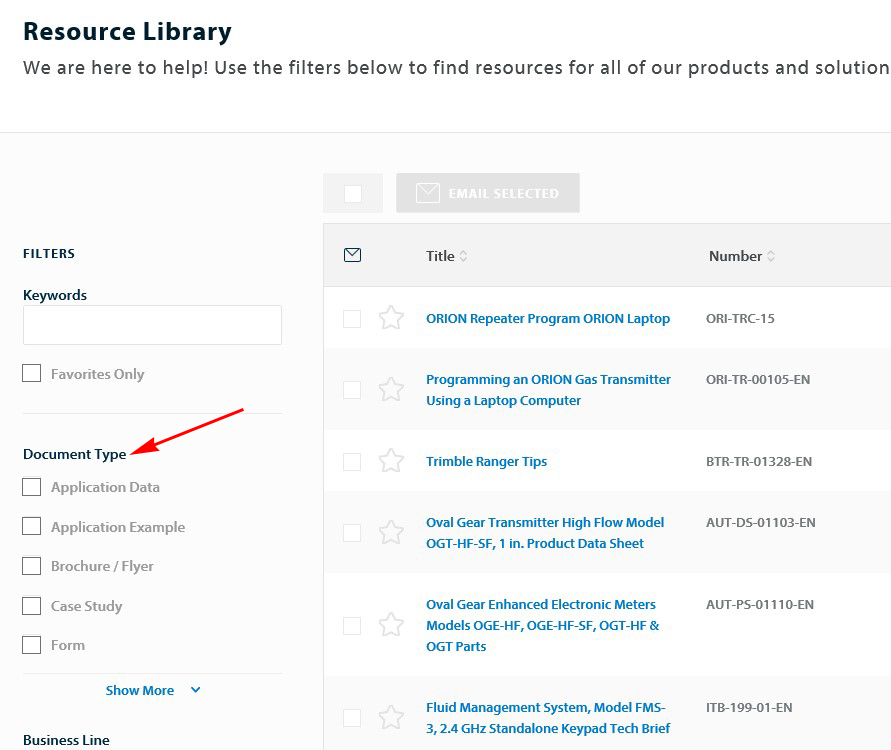 Once in the Resource Library, you can use filter options such as Document Type, Business Line or Language to narrow your search criteria and document results.
Types of documents available in the Resource Library:
Application Data
Application Example
Brochure / Flyer
Case Study
Form
Legal / Certifications
Manual
Other
Parts List
PowerPoint

Product Data Sheet / Tech Brief
Quick Reference Guide
Quick Start Guide
Safety Guide
Selection Guide / Catalog
Selling Brief
Specifications
Video/Webinar
Warranty
White Paper
Tools to Help You Size and Select Meters and Valves
We offer several software tools to help you and your customers select a meter or valve to meet specific needs and properly size the instrument for optimal performance.

PresoCalc
PresoCalc sizing software is a simple tool that sizes a wide variety of differential pressure (DP) flow meters. Badger Meter offers four types of DP meters: Gemini (a cone technology), COIN (a wedge technology), Ellipse (a Pitot tube technology) and a full line of Venturi designed meters. The new PresoCalc is a powerful tool that allows customers to size DP meters for a wide selection of media. Find it on any of the Preso product web pages.
RCVcalc
RCVcalc software guides specifiers through selecting the right control valve given the unique process requirements of a plant or application. With more than 2000 different media available and the ability to create customized media, plus automatic phase identification, RCVcalc provides accurate and meaningful valve sizing information to better reflect the system parameters of individual applications. Find it on any of the
RCV product
web pages.
RCT Selection Tool
RCT Selection Tool is designed specifically for the RCT1000 Coriolis line of flow meters. Especially for Coriolis meters, it's important to always size the sensor to the application—not the pipe size! The tool asks a series of questions to help determine the ideal meter size and type for a given application. Upon completion, the software will provide the ideal configuration and return a personalized report containing details, such as pressure and accuracy charts, flow range specifications, and more. Find it on any of the
RCT1000 Coriolis
product web pages.
Hedland® Selection & Pricing Tool
To more accurately assist you in finding the Hedland product that best suits your needs, we offer a Hedland Selection & Pricing Tool available to you. Click on the link to fill out a series of questions which will produce a price and the exact product part number needed to order the Hedland product that fits your specific application. Find it on any of the
Hedland
product web pages if you are signed into the website.
Frequently Asked Questions
To view some of the documents you may need the latest version of
Adobe Reader